Important message!
From the 3th of November our webshop will be renewed. Our login won't change, so from that date you can continue to log in as usual.
Roobos wholesaler flowers and plants from Holland
Online shop manual
Webshop business hours:
Saturday & Sunday Open all day
Monday - Friday: 14.00-24.00 hrs Complete assortment (flowers, plants and accessoires)
Monday - Friday: 06.00-12.00 hrs
Webshop functions & possibilities:
Main portal: Go to the web portal.
With the search button you can search any product by name just by typing a few letters from the article name.
Assortment: Here you can select which productgroup you want to see at your device. You can select the buttons in the top row to show your selection in "Assortment": Flowers, Plants, Accessories, Offer, Grower! and Without Added Value!
Flowers: Select this button to see all flowers in "Assortment".
Plants: Selecting this button shows all the plantgroups in "Assortment"
Accessories: Select this button to show our complete accessories collection. Here you will find all florist necessities, but also our luxurious CST-Decorations collection, as well as for example silk flowers.
Dried flowers: Here you can find our assortment of dried flowers
Painted flowers: Select this button to see our complete assortment of painted flowers.
Offer!: Select this to see our best deals.
Qflor: Here you can find oour exclusive selection of Qflor products that are currently available. The selection depends on the season.
Filter: Filter your products by colour, grower product feature 1 or 2 and price: When you first choose Flowers (nr. 1), then with Product feature 1 (Str 1) you can choose the minimal stem length. With Product feature 2 (Str 2) you can select the (average) weight. When you first choose Plants (nr. 1), then with Product feature 1 you can choose the Pot size. With product feature 2 you can select the minimal plant height. To undo your selection, click on the 'Undo Filter' button. To select your filter, click on the 'save' button.
Sort: Sort your selected products by choosing the name or the product feature 1 or 2 for flowers and plants. To undo your selection, click on the 'undo sorting' button. To sort your products, click the 'save' button.
Send your comment: If you encounter any problems during your order, you can select
this to notify us. We'll contact you then as soon as possible.
Your shopping cart to check your order and to send your order confirmation to your
email address.
Language settings: Click here to change your preferred language
Product images: Double click on the pictures for more product information. Here you can select the volume of your products and packaging. Click on the "order" button to purchase your products. Please note that clicking the order button the product is directly ordered with our growers. You can cancel this order in the shopping cart within 5 minutes. The "continue shopping" button takes you back to your selection screen.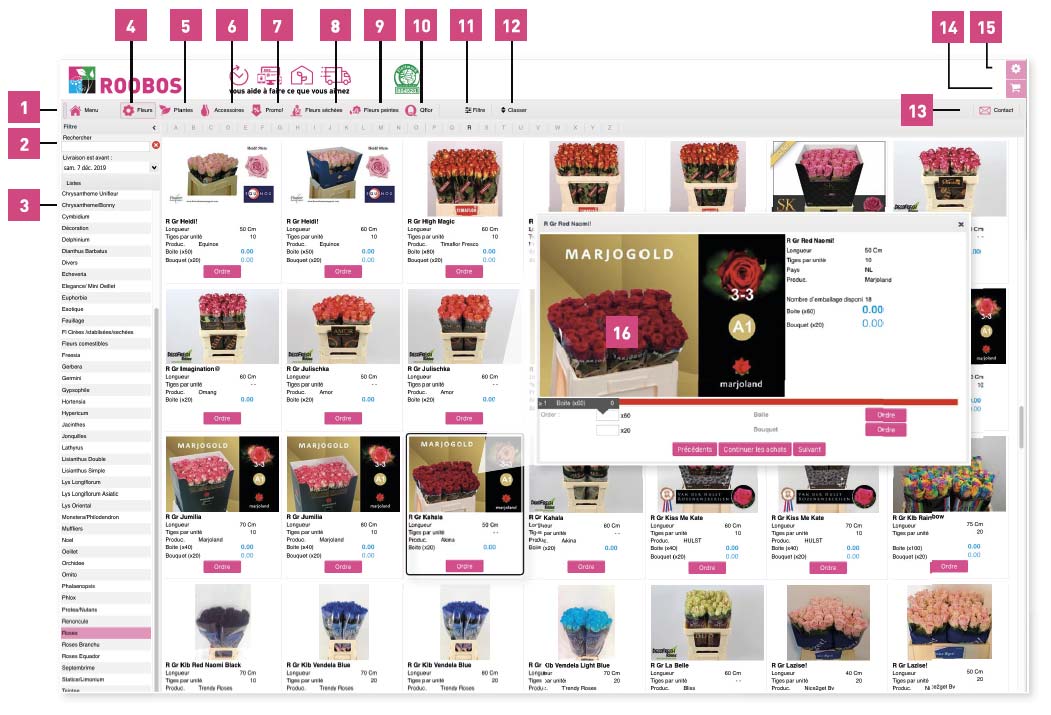 We'll save you time to do what you love

24/7 Order
Easy ordering
whenever you want

+15.000 products
Flowers, plants &
accessories

the best growers
 Top quality directly
from the grower

FAST DELIVERY
Multiple deliveries per week
in your store
Order flowers online from wholesalers?
We are MPS certified and we have the Qflor quality brand in our selection, so that you can rely on the highest quality. Always 100% fresh and with a choice of more than 15,000 products. Discover why we are the preferred brand of many renowned Master Florists and proud partner of FLOOS 'The Crafter's secret'. Do you have any questions or would you like to register as a new customer? Call us on telephone number +31 174 725 380, send an e-mail to info@roobos.nl or use our online registration form.