Our wholesaler of flowers and plants is always busy selecting only the best growers for our webshop. That's why we only have the most excellent growers in our range. Today we would like to introduce you to Together2Grow.
Their name says it all: together2Grow is all about collaboration.
Ten years ago, Together2Grow originated from two companies; BZ Alstroemeria and Van Veen Alstroemeria. Owners Bernard Zuidgeest and Fedor van Veen were full of ambition and found each other in the idea that you can achieve much more together than alone. After all, there was still a lot to optimize in the field of cultivation and commerce in a sector where developments are taking place at lightning speed. In 2016, the companies merged and Together2Grow was born.
They grow at three locations, in Schipluiden, Poeldijk and Kwintsheul. Over the years they have grown to 8.8 hectares of cultivation area. Every year they grow about 33 million stems that are distributed worldwide to retailers, wholesalers and florists. They do everything they can to supply the highest quality alstroemerias and florincas all year round.
There is close cooperation with breeders and as a result they can regularly introduce new varieties, which are only available exclusively from them.
By working with an advanced cultivation process, they can offer a very constant quality throughout the year.
The Alstroemeria is not only a beautiful flower, it also has a very long shelf life. Their wide range ensures that they can supply a wide spectrum of customers, something for everyone!
Roobos wholesaler for flowers and plants: The most beautiful Alstroemeria from Together2Grow
New from Together2Grow. The Alstroemeria Intenz Dark Pink.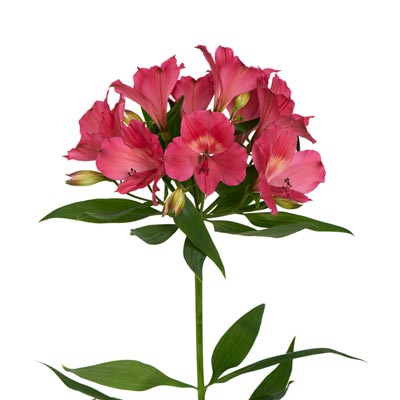 The Intenz Dark Pink is a striking appearance within the total assortment of Together2Grow. It has an intense pink color, large streak-free flowers and dark green leaves. The excellent quality of flower, stem and leaf also ensures that the consumer can enjoy the Intenz Dark Pink for a particularly long time. Because of this intense color, this new Alstroemeria also works well in mixed bouquets, trendy bridal bouquets and funeral flowers.
This novelty is now also available in our webshop.
View the most beautiful Alstroemerias from Kwekerij Together2Grow via their website. You can also find more information about this fantastic company here: https://www.together2grow.nl/
Looking for the best wholesale for flowers and plants? We are MPS certified and we have the Qflor quality brand in our selection, so that you can rely on the highest quality. Always 100% fresh and with a choice of 15,000 products. Do you have any questions or would you like to register as a new customer? Call us on telephone number +31 174 725 380, send an email to This email address is being protected from spambots. You need JavaScript enabled to view it. or use our online contact form